So I had my energy drink and I am ready to go! First up on my to -do list is these lovely eye catching luggage tags from Fun to Craft.
These are perfect for quick identfication amoung all those black bags when traveling. Go
here
to learn how to make them. This tutorial is brought to you by
Next on the list is this AWESOME bag that turns into a playmat. I needed this with my kiddos when they were a bit younger but how great now to take a picnic in it and lay out a blanket from the same bag carrying the goods.
Rockie really created SOMETHING WONDERFUL! Go
here
to see how she did it.
I also must add this sweet craft to my to- do list
This will be a great addition to my Easter decor and believe it or not she made that basket from yarn! She has a great tutorial
here
.
This beautiful seasonal craft is brought to you by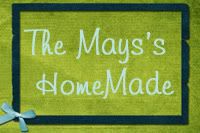 Have a wonderful Tuesday!! I look forward to all the new crafts put out there every week it gets hard to decide what to put on my to do list.